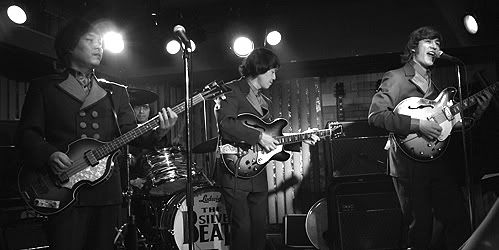 Summer School is officially over. My last class was Wednesday. Grades were posted today. I made an "A", which I cannot believe. The teacher never posted our grades throughout the class like he was supposed to, so no one knew what to expect for their final grade. I did not expect an "A", but I'll take it. Three classes down, five to go.
So I've got a 2-week break before Fall classes start on the 23rd. Initially I was going to take 2 classes in the Fall, but now that I'm getting married, I'm just taking 1. I'm taking Research Methods. A lot of the people I've met in my other 3 classes are also taking it, so maybe knowing people in the class will help. TSU has hired 2 new "Staff" teachers & one of them will be teaching this class. A little scary, but hopefully it'll be okay.
Tonight I'm going to see the
Silver Beats
at Mercy Lounge. John & I saw them last year when they opened for The Killers at the Ryman. They're this incredible Japanese Beatles cover band. There's really no way to describe how awesome they are, or how uncanny it is that 4 Japanese men can bear so much resemblance to the Beatles.... Anyway, I'm excited. What I'm not excited about is getting up at 5:30am for Bikini Boot Camp tomorrow morning. The Monday class was cancelled, so I've got to go tomorrow. No pain, no gain....